Welcome to Lake Mills Community School!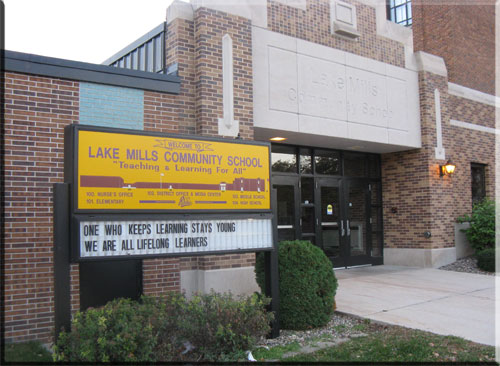 The public school system has been an important part of the Lake Mills, Scarville, and Joice communities from their beginnings. The Lake Mills Community Elementary School, Middle School, and High School are all connected and centered around a state-of-the-art Library Media Center. Technological opportunities abound at LMCS, where the benefits of small, friendly classes are supplemented by on-line education from around the state, the nation, and the world. Think locally, act globally is both a community and a school point of view.
Special Announcements
Permission to Practice
After watching the video from the Parent/Athlete Meeting from March 9, 2017, please complete and print verification sheet and bring it to the office to pick up the manual with information.
Video
Verification Sheet
Permission to Practice Form
NEW SCHOOL APP FOR ALL SMARTPHONE USERS
The Iowa Alert system is no longer available so please take a minute to sign up for the SchoolWay app to get text, emails, and notifications of activities and weather related issues. The info is on the left side of our website under School Alert SchoolWay quick link. We will also use our normal ways of announcing weather related issues through KAAL, KIMT, 107.3.